Xara is a useful vector graphics editor. Even better it runs on the Eee.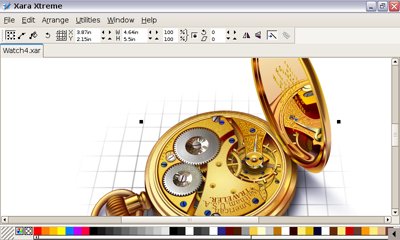 Xara on the Eee PC
Cool huh?
To install is quick but needs some grunt work:
A couple of issues I've noticed are:
On start-up you will get a warning that ImageMagick is missing. This is not problem (it simply means that you can't save your files in formats such as TIFF) and can be safely ignored.
The options dialog is chopped off slightly at the bottom of the screen. This is partly a consequence of slack of sliding dialogs in Xara – due to it being a port of a windows app.
Toolbars such as the taskbar can become undocked. I've not yet discovered how to redock them!
Enjoy!
Neil